Lung cancer is the leading cause of cancer-related deaths in men and women. It is estimated there are 10 million individuals at high risk for developing lung cancer in the United States.
Beebe Healthcare and the American Cancer Society Great American Smokeout aim to help people quit smoking and understand their risk of lung cancer. Smoking cessation counseling is available to Sussex County residents by calling the Delaware Quitline. 
Low-Dose Lung Cancer Screenings
Studies have shown how lung cancer screening can save lives. Screening has been approved by Medicare and other insurance companies because it helps to detect lung cancer at an early stage when it is most treatable.
Beebe Healthcare offers low-dose CT lung cancer screenings in Georgetown, Millville, and Lewes. Patients who are 55 to 74 years old, in fairly good health, have at least a 30 pack-year smoking history, are either still smoking or have quit smoking within the last 15 years, should talk to their doctor about a lung screening. 
These scans are offered at very low cost to make them affordable to as many people as possible with a charge of $99, which includes the interpretation of the images. Patients who are uninsured or underinsured may also qualify for screenings through Delaware's Screening for Life program at no charge to them. Beebe's Cancer Screening Nurse Navigator can help.
Results from the National Lung Screening Trial (NLST) showed that those who received low-dose CT scans had a 20 percent lower risk of dying from lung cancer than those who received standard chests X-rays. All of the people that participated in the trial were at high risk for lung cancer. This screening at Beebe is approved only for high-risk individuals and is part of Beebe Healthcare's high-risk screening clinic initiative.
Surgical Procedure Options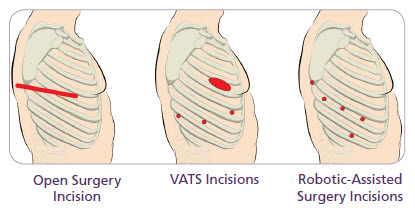 When it comes to lung cancer surgery, you have options. 
Open Surgery: Lung cancer surgery may be performed using open surgery through a long chest incision. Doctors may also need to spread the ribs to access the lung. Open surgery allows doctors to touch and feel organs while operating.
Minimally Invasive Surgery options include:
Thoracoscopy/VATS: Thoracoscopy is also called video-assisted thoracic surgery or VATS (video-assisted thoracic surgery). Doctors insert a tiny camera (thorascope) and surgical instruments into the chest through small incisions. The camera takes images inside the patient's body and sends them to a video monitor in the operating room to guide surgeons as they operate.
Robotically Assisted Surgery: When using robotically assisted surgery, doctors make a few small incisions - similar to thoracoscopy procedures. During robotic-assisted surgery, the surgeon sits at a console near the patient and controls the instruments, which bend and rotate. The surgeon uses a 3D HD vision system which provides a magnified view inside the patient's body. The system translates all hand movements into smaller, precise movements of tiny instruments in the patient's body. Learn about Beebe's Center for Robotic Surgery.